When To Buy MATIC Amid Dip Ahead Of Polygon zkEVM Launch?
Polygon MATIC zkEVM News: Despite the hype around the upcoming zkEVM upgrade, Polygon (MATIC) price is currently following a declining trend. Going by the price pattern, it is believed that there is more downside strength in the coming days. Hence, it could be a nice opportunity for Polygon enthusiasts to take a position in the cryptocurrency ahead of the crucial upgrade. However, whether the upgrade itself will turn out to be bullish for the coin remains to be seen.
Also Read: Popular Analyst Predicts ETH, LINK, AVAX, FTM, ATOM, LTC Price If Bitcoin Bull Run To $35K
Polygon zkEVM Hype
Some of the much hyped blockchain network upgrades that didn't live up to expectations in terms of price jump was the Ethereum Merge in September 2022. With the upcoming rollup, Polygon will be able to offer a decentralized Ethereum Layer 2 scalability solution with the zkEVM infrastructure. This involves cryptographic zero knowledge proofs for off-chain transaction computation, saving on chain data costs. The zero knowledge rollup executes smart contracts by publishing zero-knowledge validity proofs, while maintaining compatibility with the Ethereum Virtual Machine.
The date for Polygon (MATIC) zkEVM mainnet beta going live is set for the last week of March 2023.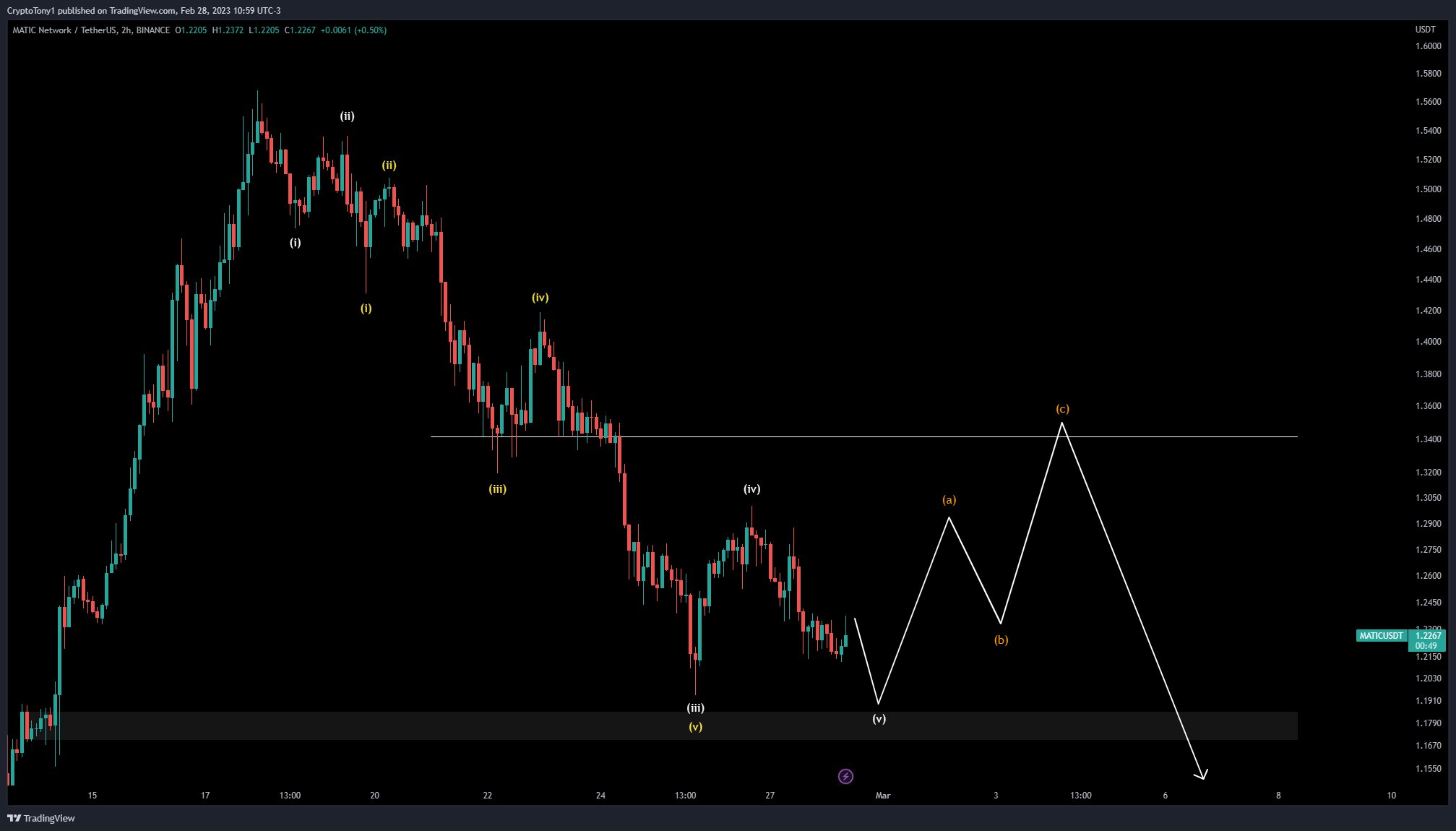 In this context, it is believed that there is scope for further price decline for MATIC. Trader Crypto Tony predicts a relief rally towards the local resistance around $1.34 could be followed by a dip to lower than current range. With close to four weeks to go for the upgrade scheduled on March 27, the dip could mark an accumulation phase followed by price jump in the lead up to the event. In the last 7 days, Polygon price saw a dip of over 12%. In comparison, Bitcoin price saw a dip by just 4% in the same period, in what was a correction after several weeks of bullish environment.
Also Read: Gary Gensler Likely To Be Questioned In Congress Hearing Over Crypto Crackdown
The post When To Buy MATIC Amid Dip Ahead Of Polygon zkEVM Launch? appeared first on CoinGape.
Crypto Feed:
https://ift.tt/Q8B9GYR
Anvesh Reddy
CoinGape